Progressive educators often lament the 'culture of rote learning' that prevail in Indian schools and class-rooms. The National Curriculum Framework, 2005 for instance, notes "Tasks that are…repetitive and mechanical, that are based on recalling the text, that do not permit self-expression and questioning by the child and that depend solely on the teacher for correction, make the child assume the passive stance of obedience. Learners learn not to value their own ability to think and reason, [but rather start believing] that knowledge is created by others and that they must only receive it…These are ultimately detrimental to the growth of cognitive self-reflexivity and flexibility which are essential if learning is to empower the learner. By the time they reach Class VII, many children who have grown up in this kind of learning environment, lose their self-confidence and their ability to express or make meaning out of their experiences in school. They repeatedly resort to mechanical rote memorization to pass examinations.
Instead tasks that are challenging and allow independent thinking and multiple ways of being solved, encourage independence, creativity and self-discipline in learners. Instead of a culture of quizzing, of answering quickly and always knowing the right answers, we need to allow learners to spend time on deeper, meaningful learning. Learning tasks that are designed to ensure that children will be encouraged to seek out knowledge from sites other than the textbook, in their own experience, in the experiences of people at home and in the community, in libraries and other sites outside the school, communicate the philosophy that learning and knowledge are to be sought out, authenticated and thereby constructed, and that neither the textbook nor the teacher is an authority."
IGNITE – an annual national competition to harness the creative and innovative spirit of school children, and run by the National Innovation Foundation, which is an autonomous institution of the Department of Science and Technology, Government of India set up to provide institutional support to grassroots innovators and traditional knowledge holders from the unorganized sector of the society – has emerged as one of the most popular national programs to encourage and reward innovations by school children.
"Every child is creative…Then what happens during the growth and maturation? Why should children stop asking basic questions? Why do they agree to do repetitive science projects instead of being original? Why do they learn to live with unsolved social and professional problems?" it asks. "We want to promote originality, creativity and innovative spirit among our children so that when they become leaders of our society, they ensure an imaginative, inclusive and an innovative future for the country. We want our children to be more sensitive to the problems faced by not just them and their families or neighbours but also other socially disadvantaged sections of the society."
In its seventh year now, the annual national competition to harness the creative and innovative spirit of school children, is presently inviting them to "send their original creative technological ideas and innovations."  The winning entries from the previous years have not just been recognized through the national awards, many of the student-innovators have also been helped by the NIF to implement their ideas and file for patents. Visit this link to submit your ideas (if you are a school student) or to encourage your children to submit their idea/s.  And take a look below at some amazingly simple, effective and contextually relevant innovations:
1. Flood-Resistant Handpumps That Rise Automatically
Generally in flood prone areas, wells and hand pumps become unusable as muddy water gushes in. Kripesh and Biswajeet from Bhubaneswar, Odisha suggest a hand pump whose upper portion may rise with the increase in the level of flood water, thus ensuring that it remains usable.
2. A Torch That Lights Up In Different Directions 
Md. Alisher from Lakhisaria, Bihar was "once returning home with his  grandmother at night; and got hurt by falling in a pit. Though he had a torch, he had to use  it to show way to his grandmother who was trailing behind him (and thus, could not see the ditch himself). Wriggling in pain all night,  he resolved to come up with an idea so that a single torch can be used to throw light in  different directions." And this is the result:
3. Innovative Serving Tray
While serving tea to a guest, Alok Singh from Gaziabad, U.P. once "spilled hot tea over him – resulting in some burns to his hands and stains on his cloth and the sofa. After this incident he started thinking how such a problem could be avoided and came up with an idea of a serving tray with a release mechanism to put cup/ glass on the table along with a coaster" without touching them with bare hands – thus making serving easy and 'stylish'.
4. Staplers That Indicate Pins Are About to Get Over
One day, Ankita Nagarkar, from Pune, Maharashtra, "was stapling some papers for a school project when the stapler suddenly stopped working. Opening it up, she saw that it was out of pins. 'Why didn't you know that they were about to finish,' her father asked her.  [And] encouraged her to think of a way to know beforehand that the staples were about to finish.  This got Ankita thinking [and] she came up with the idea to paint the last three staple pins with nail polish. But the paint was too thick. She then used a permanent marker.  This worked well to indicate the pins were coming to an end. The idea [saved her] last-minute rushing around and is easy to implement, with hardly any cost.
Her mother has written a book on her idea in Marathi titled Maaja Ankita ka Shodh, or My Ankita's Innovation, a 67-page long book that covers everything – from how Ankita got the idea to the patenting process.  "It will help a child who has an idea but wants to know what to do next," Ankita proudly shares.
5. Charging Mobiles Using Human Pulse
"I was once sitting and a phone was lying in front of me on a table." says Sarojini Mahajan, from Delhi. "And I thought, why can't we charge a phone using our own pulse, you know? There is a technology called pulse technology and I thought if we can have watches that run on the human pulse, then why not mobile phones?" Interestingly, the idea caught the interest of Paul Kim, Assistant Dean and Chief Technology Officer at Stanford University, who got in touch with Prof Anil Gupta, NIF executive vice-chairperson with a proposal to develop the idea into a product.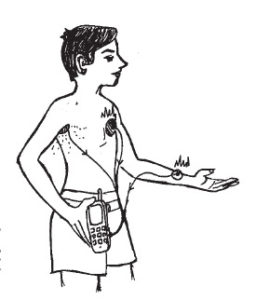 6. Customized Painting Brush
Brushes of different sizes (usually indicated by different numbers) are needed while painting. Instead of buying/using many different brushes, Ektapreet Kaur from Jalandhar, Punjab came up with the idea of a brush which would have a slider that will move to cover the bristles, thereby limiting their movement. The brush will also have alphabets marked on them to denote different sizes. When the slider moves over the brush, the alphabets are visible through an open slit, thus indicating the size selected. 
7. Automated Fan-Blades for Easy Cleaning
Remember the painfully tricky process of cleaning ceiling fan-blades? While the side facing downwards can be cleaned with some effort, the upper part of the blades are even harder to reach. Atheerth Chandran from Thiruvananthapuram, Kerala developed an idea of a fan with a special switch – "when switched off the blades loop downwards so that they can be cleaned and when switched-on they become horizontal as in other ceiling fans."
8. A Cloth-line That Pulls-in Clothes when it Rains 
Piyush Agarwal, from Hazaribagh, Jharkhand would often see his mother "taking clothes off and putting them back on the clothesline many times in a day, especially in the rainy season." To help her save this additional chore, he came up with an idea of a clothesline that has a motorized system which works on sensors.  The motor has wires that are immersed in salt.  When it rains, the salt absorbs moisture to conduct electricity.  This triggers the motor.  It then pulls the rope inside on which clothes are hung.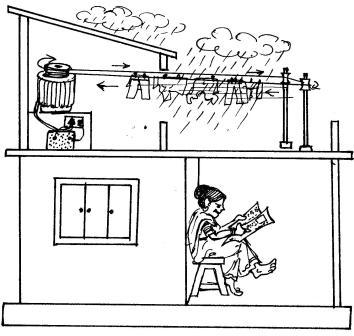 9. Preventing Misuse of Drinking-Water Bottles
The brother-sister duo of Shibajyoti Choudhury and Rajashree Choudhary were "travelling in a train where they saw some children picking up used littered water bottles, refilling and reselling them." This led them to think of  " a stay-tab like mechanism, like the one in juice cans, at the bottom of water bottles to puncture them. This will make the bottle unusable and prevent refilling/ misuse."
And here are some innovations related to driving and road-safety:
10. Automatic Spike System Near Traffic Signal
Shameet Badarla from Hyderabad lost a "dear friend in an accident caused due to signal jumping by a truck". This made Shameet think seriously about ways to prevent drivers from jumping signals and he came up with the idea of retractable spikes before the zebra crossing; which would come out when the traffic signal is red and go back in when the signal turns green. By using this automated mechanism, the drivers would be forced to wait till the traffic light turns green or they will risk getting their vehicle tyres punctured. Interestingly, S. Siva Mahima from Delhi also developed the same idea independently.
11. Eco-Friendly Horns Targeted Sound Only Reaching the Desired Person
Manibhushan Prasad from Dhanbad, Jharkhand takes studies seriously and [two of] his ideas help students study with ease.
He used to live in Dhanbad which had frequent power cuts. Studying at night became a problem. So, he thought of a study table that generates electricity using a pedal, that can be used to power a bulb.  "Later, in class 11th, he shifted to a school in a bigger city. He stayed near a busy road with a lot of traffic. Sometimes, he could not even talk to his parents over phone because of the loud honking. This is when he thought of an idea to reduce noise: A honk is usually meant for the driver of the vehicle in front. However, it is heard by everybody in the area, creating noise pollution. In Manibhushan's horn, the sound directly reaches the target with no noise going into the surrounding environment.
It has emitters to give a signal (infrared or ultraviolet) and sensors to detect the signal. When the horn is pressed, signals are transmitted instead of sound. These signals are picked up by the sensors in the car in front. This triggers a beeping sound and a light signal to alert the driver that somebody in the back is honking. What's more, the cost of this horn is similar to a regular car horn."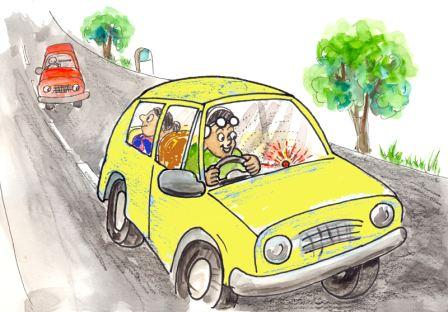 12. Preventing People From Driving Without a License or Helmet 
"Alarmed with increasing number of accidents, some children have found a way to prevent teenage drivers and others without proper training from driving.  They suggest incorporating a slot near vehicle's ignition for inserting the driving license. The system would stop anyone from driving if the license is not present, is invalid or has expired."  Others suggest using a helmet as an ignition in two-wheelers – this would essentially mean that if someone is not wearing their helmet, the two-wheeler would not start." 
And finally, here are some innovations by children to help the elderly and the specially-abled:
13. Low cost Braille Printer
Santokh Singh and Khushwant Rai, two friends from Jalandhar, Punjab once visited a blind school for a school project where they saw much of the printing work being done manually. They felt it was quite time consuming. One of the teachers at the school for the blind asked them to see if anything could be done in this regard. They came back and did some background search and found that while Braille printers were available they were quite costly. Zeroing down on dot matrix printer, they decided to go ahead with their plans to develop a Braille printer of their own. Khushwant recalls that while modifying the printer, there was a problem with the roller – there wasn't enough friction on the roller to catch the rubber tube. So he and his friends used it as football for a while, which made its surface rough and thereafter it started giving desired results.
14. Modified Walker to Climb Stairs
"Shalini Kumari's grandfather loved to plant.  He had a beautiful garden on the roof of their house in Patna, Bihar where he took his daily walk.  Sadly, he had an accident after which he had to use a walker for support.  He could walk on an even surface but it was not flexible enough to be used on stairs. And because the walker could not support him on stairs, her grandfather could no longer walk to the roof to enjoy his garden.  Shalini noticed his helplessness and wanted to help him.  Looking over the walker, she realized that if the front legs were adjustable instead of fixed, they could be used to climb stairs. And that's how she got her idea of an adjustable walker – The walker has spring-loaded self-locking front legs.  When the user pushes the front legs on the upper stairs and the rear legs rest on the lower stairs, the walker is stable enough for climbing stairs. It also has a foldable seat that can be pulled out for resting and is fitted with a horn and a light." 
Interestingly, she first shared this idea with Abhishek, a friend who had won an IGNITE award earlier for his automatic food making machine.  He encouraged her to enter it in the IGNITE competition, where NIF got a prototype made based on it.  Seeing her idea translated into reality and receiving an award from Dr Kalam has made Shalini feel extremely proud of her achievement. 
15. Device to Assist People With Low Vision
Jyoti Ranjan Sahoo's home in Bhubaneswar, Odisha was opposite a blind school.  "Looking out of his window, he could see students going about their work.  He realized that many students were not completely blind.  They had partial or low vision.  There were others suffering from glaucoma, a disease that leads to gradual loss of sight.  "If they had a low-cost device to help them see better, many of them could be independent," thought Jyoti.  Motivated, he tried making a prototype. "Basically, I needed a device to get a clear image of things at a distance and then to show it clearly on a screen up close," he explains.  After trying many things, he realized that combining a zoom camera with an LCD could result in an aid that provides enhanced vision.
In his model there is a helmet that has a camera to capture images at a distance.  It also has an LCD screen where these images are shown.  A person with poor vision can put on this helmet to clearly see things that are far away.
After a lot of trial and error, Jyoti finally made a prototype.  Of course, making it was not easy. "Getting the right equipment was a big problem for me" he says.  "Another challenge was not knowing the software properly.  But the internet helped me a lot in getting information." He finally, shared it with hospitals, including the Kalinga Institute of Medical Sciences, Bhubaneswar, Odisha and the Institute of Medical Sciences, Bhubaneswar, and they appreciated the product.  Bhubaneswar Municipal Corporation Hospital also tested it on patients who reported an "appreciable visual benefit from the device".  However, the users suggested that it be made more compact.
Jyoti won the IGNITE award as a class 9 student.  NIF has filed a patent application (1429/KOL/2011) in his name.  People have also shown interest in commercializing the final product.
For a full list of patents filed by NIF in the name of the school children click here.